| | |
| --- | --- |
| Don't Go Breaking My Heart (單身男女) | Film Information |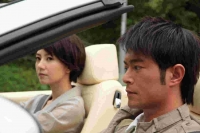 Synopsis
Yen is a single girl from China working in an IT company in Hong Kong. Overwhelmed by the hustle and bustle of this sleepless city, she feels increasingly like a fish out of water. Just when she has almost succumbed to the inevitable prospect of being alone and lonely in this unfriendly place, her fate begins to turn in an unexpected way.

One day, she notices a handsome hunk in the office building across the street from hers trying to catch her attention with paper signs. She immediately picks up a scrap of paper and doodles back. A quirky romance ensues as she starts communicating with him by paper signs every day.

On the day when she finally has the chance to meet him in flesh and blood, however, she discovers to her consternation that this so-called romance has been an embarrassing mix-up on her part. The love notes this guy, Sean, has been writing are only meant for a sexy vixen working at the office above hers. He is oblivious to her existence, let alone their blossoming romance.

Just when Yen is ready to crawl back to her lonesome shell, her fate changes again. She is accosted by a beggar called Kevin in the park and is captivated by the sad expression on his face. They start talking and, before they know it, have become the best of friends. She learns that this starkly handsome beggar was an elite architect who ended up wandering the streets after losing his self. Yen starts helping him rebuild his confidence and get back on tracks.

Months pass. Sean finally gives up his life as a playboy and realizes Yen is the dream girl he would like to spend the rest of his life with. Meanwhile, the rebound Kevin is also planning to propose to Yen at the rooftop of his latest design that was inspired by his love for her.
Yen is no longer alone and lonely, but will she be able to find her true love?

Director :
Cast :
1st Shooting Date :
02 May, 2010
Status :
Completed
Official Site :
www.mediaasia.com
Presenting Company
Company :
Media Asia Films
Address :
Tel :
Fax :
Email :
Website :
Company :
China Film Media Asia
Address :
Tel :
Fax :
Email :
Website :